Summer is a great time to plan a vacation that includes beach, sun, and fun times with family and friends; however, if the prospect of buying a bathing suit makes you nervous, you're not alone!
Every lady has a beautiful physique; it's only a matter of recognizing what would look best on her.
How to pick the best plus Size Swimwear
So, which are the finest swimsuits for different body types? Check out these bikinis if you want the best look or maybe to know what might look best on you;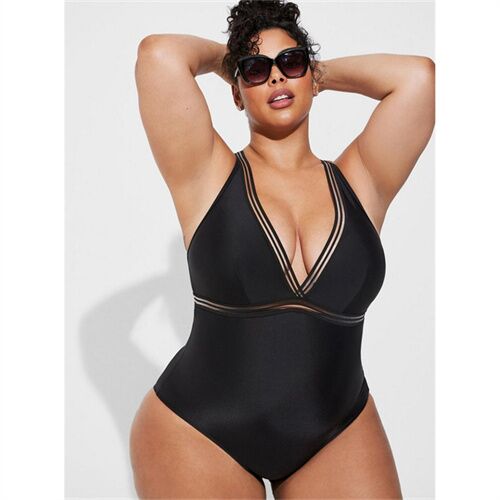 Swimsuits for a Large Bust
It's important to have adequate support and coverage for a huge bust. A straight-across cut at the top of your bikini with wide-set straps is one garment that works. For added support, use a bikini top with an underwire and a thick chest band.
Swimsuits for a Small Bust
Halter tops and triangle tops can assist in showcasing a smaller bust, but elements like ruffles and a wrap style also look great. A gently padded bra suit and underwire suit tops provide believable cleavage while also enhancing what you already have. Finally, avoid a pancake bandeau top with front hardware or a twist tie front.
Swimsuits for Big Hips
In this scenario, the hips are wider than the waist and breasts. The finest swimsuits for pear shapes include some interesting embellishments at the top, such as frills or an eye-catching pattern, and keep the bottoms simple in color and higher cut.
Swimsuits to Hide a Tummy
Choose suits with shirred panels, features such as a colorful top, and dark or solid colors at the bottom of your waist is broader than your hips and equal to or almost as wide as your bust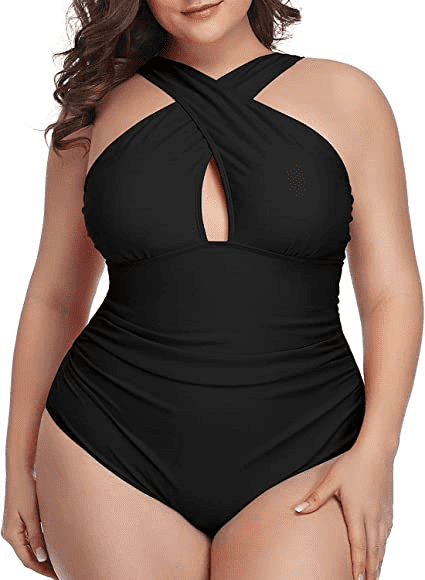 Swimsuits for Compact Figures
If you're skinny all over, the idea is to create an hourglass shape with cutouts or use colorful prints to give the appearance of a bigger figure.
Swimsuits for an Hourglass Shape
An hourglass figure has a bust and hips that are nearly the same width, but a smaller waist. In general, you want to flatter your curves as much as possible.
Where can i wholesale plus size swimwears?
If you want wholesale plus size swimwears, then the best country must be China. China has a very complete production line and cheap labor force, so wholesale plus size swimsuits in China must be best choice.
Best Show is one of the best plus size swimwear manufacturers in China, with more than 20 years of experience, good at design and manufacturing, no matter what type of plus size swimwear you need, it can be manufactured.
Where to buy plus size swimwear
To purchase plus size swimwear, we can choose to purchase it online or offline. If purchased online, we will have to wait a few days to receive the plus size swimsuit, if purchased offline, we will be able to buy the plus size bathing suit immediately.If you
choose to buy online, there are many platforms to choose from, such as Amazon, ebay, Torrid, Etsy, etc. If we buy offline, we can choose the nearest store to buy.
Where is the best place to buy plus size swimwear
I think amazon is the best place to buy plus size swimsuits online, it is relatively cheap and there are many styles of plus size Swimsuits to choose from.
Where to buy plus size swimwear near me
The offline store must be near the place where I purchased plus size swimwear, such as Walmart, Target, Costco, Kroger and some other large supermarkets.
Who makes the best plus size swimwear
There are many plus size swimwear manufacturers in the world, in China, Best Show produces the best plus size manufacturer, we have rich experience, there are a variety of different designs and styles.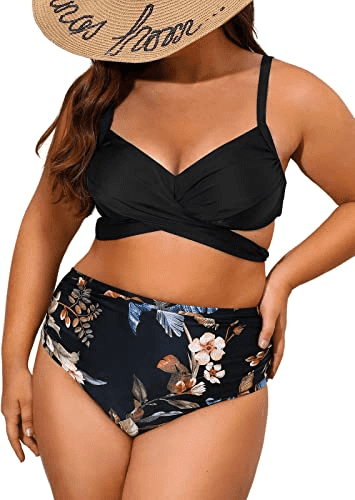 Where can i find cute plus size swimwear
You can find cute plus size swimwear in Amazon, Amazon has many different types of cute plus size swimerar. But if you want to customize and wholesale plus size swimwear, then you should go with best show.
Where can i buy plus size sport swimsuits
Ebay has many different types of cute plus size swimerar. But if you want to customize and wholesale plus size swimwear, then you should go with best show.
Best 16 Places to Buy Plus-Size Swimsuits Online
1. SwimsuitsForAll
As the name implies, offers a wide range of patterns, colors, and styles of swimsuits, so you're almost certain to find one (or more) that you enjoy. We've all had the experience of falling in love with an extremely cute two-piece swimsuit only to discover that the two distinct parts are disproportionally proportioned on your body. SwimsuitsForAll allows you to select both your top and bottom size. Because our body measurements aren't all the same, why should our two-piece swimsuit sizes be?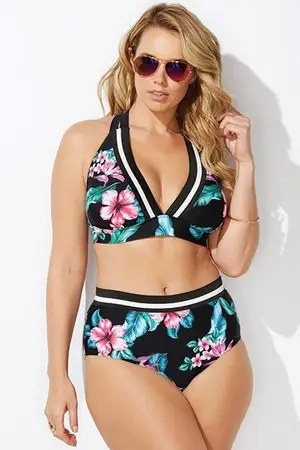 Price: $19.50+
Sizing: 4–22
2. Amazon
Amazon is everyone's favorite online marketplace, and of course, the site that stocks almost anything you can think of has a plethora of plus-sized swimsuits to pick from.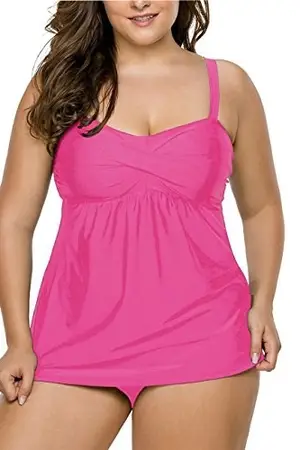 To put it simply, Amazon is quite convenient. While shopping for a bathing suit, you may realize you need a beach chair or sunscreen to complete your purchase, which you can do. Not to mention, many Amazon products have a plethora of fantastic ratings, allowing you to acquire trusted recommendations from customers just like you.
Price: $9.49+
Sizing: S–5XL
3. Nordstrom
Nordstrom sells some truly splurge-worthy suits, and you're definitely in the market for pampering yourself this summer. A trip to Nordstrom's plus-size pool section can leave you transfixed for hours by bathing suits you've never seen before. The assortment is incredibly trendy and high-quality, and Nordstrom's return policy is fantastic, so it's a win/win situation all around.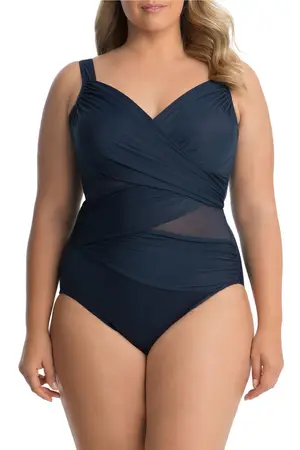 Price: $30.53+
Sizing: 1XL–4XL
4. Target
Target has unique prints and styles that will have you strutting your stuff down the beach. For starters, it's Target, which is what makes it so fantastic. However, Target produces high-quality items that last without depleting your bank account. If you have trouble accepting that a bikini that will magically fit will appear outside your door, you can order your bathing suit to your nearest Target, try it on there, and instantly return it if you don't love it.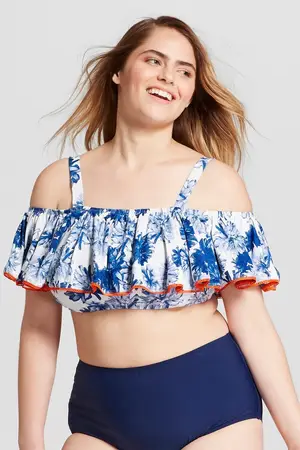 Price: $16.99+
Sizing: XL–3XL
5. Eloquii
Eloquii offers one-of-a-kind suit alternatives in a variety of bright, beautiful patterns that will brighten even the cloudiest pool days. While the swimsuits at Eloquii are on the pricey side, you can be sure that whichever swimsuit you purchase will be in style for years to come.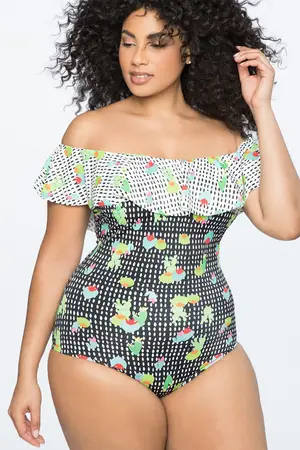 Price: $59.90+
Sizing: 12–28
6. Asos
Asos has a really cute plus-sized department in general, and the bathing suits are no exception if you like keeping up with the current trends squandering your life savings, you should check them out. Aside from the fact that the bathing suits are stunning, the return policy is the best of the best. If you saw something online and fell in love with it, but when it arrived in the mail, you had 28 days to return it for free.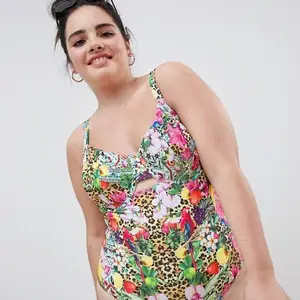 Price: $9+
Sizing: 12–24
7. Old Navy
Old Navy has a variety of basic swimsuit pieces as well as some attractive patterns, which is especially convenient when you need utilitarian, frequent selections. Look no farther than Old Navy for basic swimwear options to stock up on, pieces to mix and match with, and items intended to survive lengthy walks on the beach, swimming laps in the pool, and getting pushed over by waves.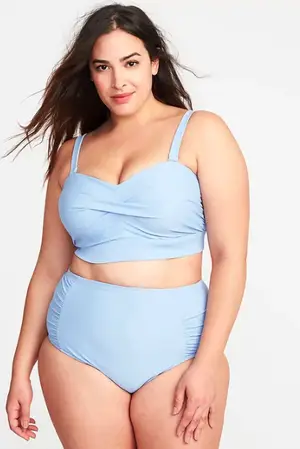 Price: $34.97+
Sizing: 1XL–4XL
8. Torrid
Torrid has a wonderful mix of options for the fashionista who wants to make a huge statement as well as the laid-back individual who prefers something a little more laid back but still cute. Torrid emphasizes the fact that its swimsuit includes built-in shapewear. Swimsuit tops have built-in bras to keep your boobs in place no matter how fierce the ocean waves are.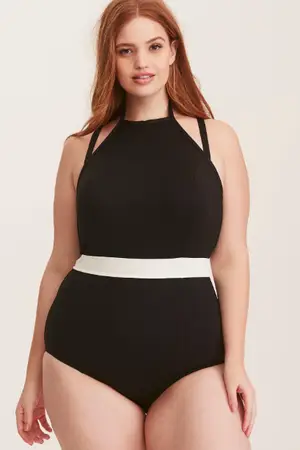 They have adjustable closures and many have convertible straps, so you won't be disappointed if you buy your next bathing suit from here.
Price: $20.23+
Sizing: 10–30
9. Macy's
Macy's has pricier things, but they're of the same high quality you'd expect from the popular department store. Customers enjoy Macy's for its high-quality merchandise at a variety of different price points, their frequent deals, and rewards members adore their no-minimum free shipping.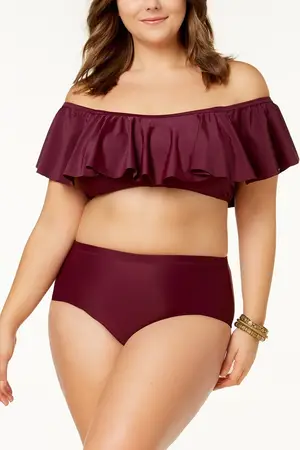 Price: $95.99+
Sizing: 16–24
10. H&M
H&M is all about assisting you in saving your final direct deposit instead of spending it all on something you're going to get wet regardless. Everything at H&M seems costly but is actually incredibly reasonable. If you're in a hurry, you can pay an extra fee for the next-day shipment. There's also free delivery on orders over $40 with code 0040 and a free in-store return policy.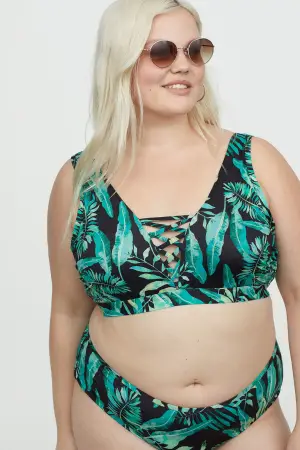 Price: $17.99+
Sizing: 14–24
11. Boohoo
Boohoo adds the newest fashion trends to their swimwear. I mean off-the-shoulder and cold-shoulder bathing suits? The seashore has become your runway. This contemporary store is all about offering consumers the latest and greatest in fashion for cheaper than other retailers, as evidenced by the fantastic swimsuit collection.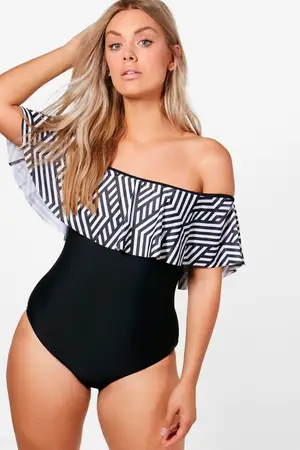 Furthermore, it adds over 100 new things every day, so if nothing catches your eye today, come back tomorrow.
Price: $15+
Sizing: 12–20
12. Addition Elle
In Addition Elle offers suits in a number of pricing points and, of course, styles because diversity is vital. In Addition Elle thinks that there should be as many outstanding plus-sized clothing alternatives as there is non-plus; therefore it is committed to taking the hottest styles and making them size-inclusive.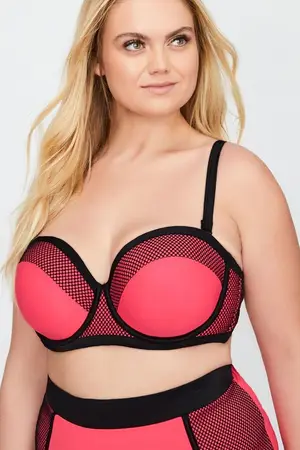 Price: $17.99+
Sizing: XL–4XL
13. ModCloth
ModCloth has vintage-esque flair, so if you're stuck in the '80s in 2018, go back in time through clothes at this site. Finding throwback swimwear items that you'd actually want to wear can be difficult. If you've always wanted to wear earlier designs but didn't know where to start, you've just discovered your new favorite store: the old look, but new.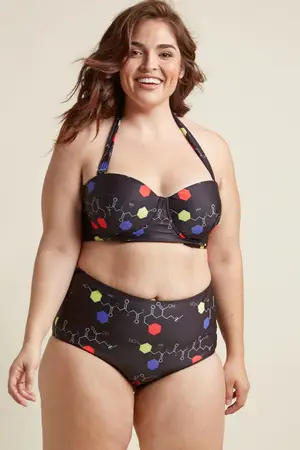 Price: $34.99+
Sizing: XS–4XL
14. Lord & Taylor
Lord & Taylor has more high-end goods that are well worth indulging yourself. It's a reliable department store that's always on sale and where you can easily get a coupon before shopping a win-win if you can get both. You can also buy online and pick up in-store, making shopping more convenient.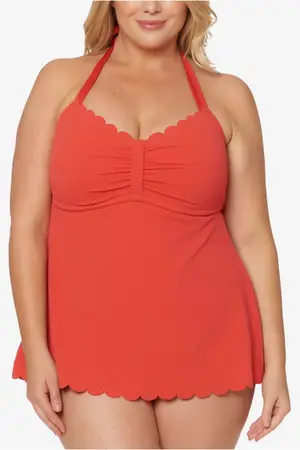 Price: $12+
Sizing: 16–24
15. City Chic
As the name suggests, City Trendy features some seriously trendy items to let you express some boujee urban style while soaking up some sun. If you like urban style, City Chic is the place to be. The swimsuits alone are like seeing an NYFW show, and the pricing isn't bad either.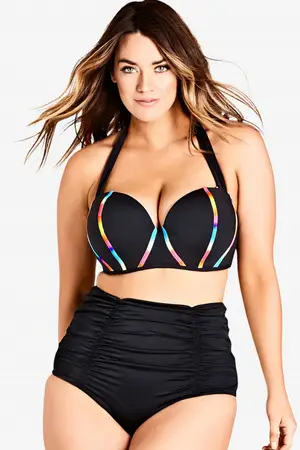 Price: $29+
Sizing: XS-XL
16. Forever 21
When you need a cute suit, Forever 21 is your go-to solution. Everything is reasonably priced. Forever 21 isn't necessarily built to last a lifetime, but it's continuously cranking out the most inventive trends, so you can keep up without spending a fortune. If you are unhappy with your purchase, you have 30 days to return it.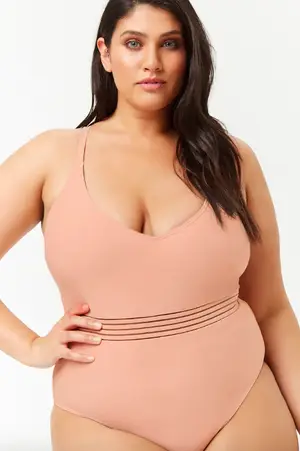 Price: $6.93+
Sizing: XL–3XL
Conclusion
When buying plus size swimwear, we can choose to buy it online or offline, there are many types and colors to choose from. When we wholesale plus size swimwears, we should choose China's Best Show. In any case, when we buy, we should choose our favorite plus size swimwears, and then wear it to fully show ourselves.
Anything about plus size swimwears, feel free to leave us a comment below.