Few shopping experiences elicit more emotions than plus size swimsuit shopping, whether you're plus size or not. This plus size swimwear business has expanded in recent years. There are now many options, styles, and fits to choose from, making it much easier to choose the ideal plus size swimwear for your body. Swim season has arrived, and plus size swimwear has never had more stylish options before this season. Whatever type of swimwear buyer you are, there is something for you on this list of the top plus size swimsuits.
While everyone's body type is different and everyone has different feelings about what they want to reveal, try something new this swim season. Inclusive swimwear is rising, with more plus size swimwear alternatives that follow attractive swimsuit trends rather than the traditional basic black one-pieces or simplistic designs. low moq swimwear manufacturer
An increasing number of plus size swimwear manufacturers embrace every body type, and there have never been more options for curvy shapes than there are today. But how do you pick the winners? If you're looking for a plus size style, Taylor Long, a plus size model, fashion designer, and founder of Nomads Swimwear, recommends keenly observing the suit's general construction and supportive features.
To uncover the greatest plus-size swimwear for every shape, style, and budget, our editors and in-house fashion experts consulted with professional stylists before combing through all of the biggest online stores and size-inclusive clothing brands. We have a suit for everyone on the list, whether you're looking for a stylish swimsuit with belly control, a beautiful bikini set with underwire cups for larger busts, an economical Amazon high-waisted suit, or a tankini with stomach coverage.
Let's get started;
Best Plus Size Swimwear Overall top picks
1. Angerella Vintage High Waisted Plus Size Bikini Set
The complimentary high-waist silhouette of a retro two-piece accentuates a curvaceous shape. While the top is stiff, it is ideal for women with larger chests since the underwire bra and broad straps lift and support. This 1950s-inspired halter is available on Amazon in a variety of colors and designs.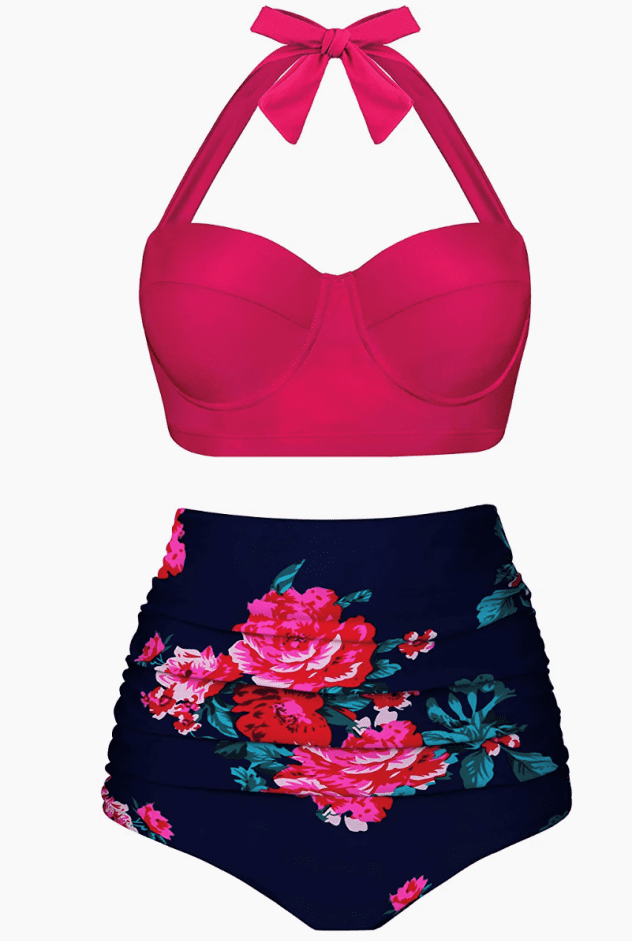 2. Swim 365 Fringe One-Piece Plus Size Swimwear
The frilly fringe feature at the top of this Swim 365 bathing suit will turn heads despite its simple design. When you put on this one-piece, you'll notice the ruched mesh lining of the swimsuit, which adds extra compression in the briefs section. (one piece swimwear manufacturer)
The plus size swimwear is made of the same elastic nylon fabric as the suit, ensuring that the fabric remains in excellent condition despite chlorine, salt water, and rinse cycles. This slimming bathing suit from Swim 365 claims to have a "tummy control" feature. All the extra tight material does, in my opinion, make the waist area feel more constricted and uncomfortable. However, it ensures that the stomach will stay put and won't flop around.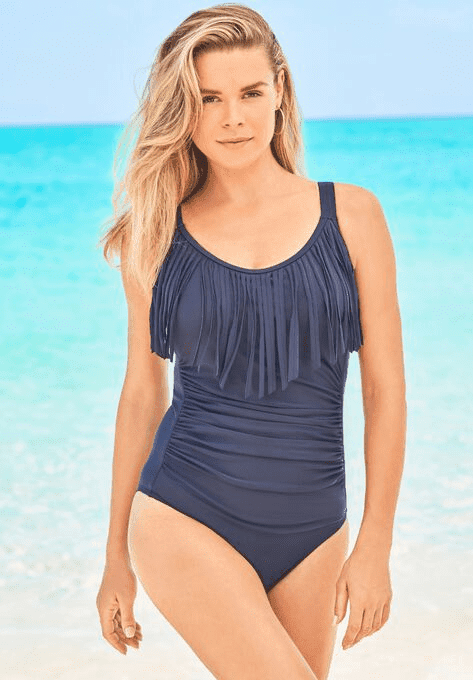 3. Lalagen Swimdress Plus Size Tankini Set
If you are asking yourself;
"Are tankinis flattering?"
Then this one most emphatically is. It also checks all of the right boxes of the best choice for plus size. The suit features a sweetheart neckline that gives extra coverage while remaining feminine, as well as a supportive built-in bra with molded cups and a fluttery long-length silhouette. Please keep in mind that this tankini style runs large, so you may wish to size down of your choice.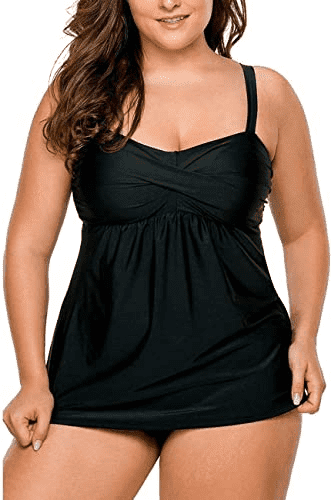 4. Daci Front Cross Plus Size Keyhole One Piece Plus Size Swimsuit
The halter straps that cross over the breasts to give them extra lift and the lining under the cups that create the illusion of an hourglass figure give the bathing suit a sexy appeal. Keyhole necklines compliment boobs of all sizes.
That's a broad statement, but when you put on this front cross one-piece and see your chest framed in the circle space, you'll understand what I mean. Even when fully loosened, the suit's thick adjustable straps lay comfortably on the shoulders. Side spillage will be a thing of the past with this one-extra piece's fabric lining that comfortably covers beasts and side rolls, as well as the added compression from the halter portion that secures everything.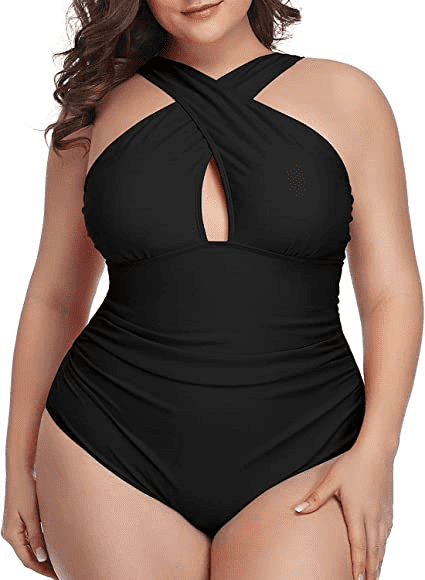 If you're opposed to padding, the extra material in the cups is removable. This style appears to have infinite color and pattern options, with over twenty bright shades to choose from. If you can't decide between two colors, do yourself a favor and get them both because having a backup that you know works is always a good idea. Unfortunately, the largest sizes are frequently out of stock in multiple colors, so if you see one you like, act quickly. This swimsuit fits true to size and has a slight waist tightening, which is typical of one-pieces, especially those with tummy-control compression.
Price at time of publishing: $31
Size Range: L-28 Plus | Colors: Hot Pink, Green, and 20 more | Fabric: Nylon and spandex
5. Women's V-Neck Plus Size Swimwear
Take the dive with this feminine, flirty, and fabulous one-piece from plus size Swimwear for All, a brand is known for paying close attention to detail in order to keep everybody comfortable. The V-neck swimsuit has sewn-in, wire-free cups and adjustable straps to keep you supported and secure on top, as well as tummy control lining for a flattering fit.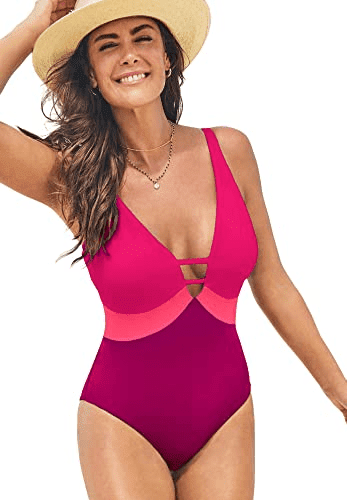 6. Meet Curve Black Crossover Lady Vintage One Piece Plus Size Swimsuit
Retailers have gotten the note: not every black plus size swimwear has to be boring. Plus size swimwear is increasing in more ways than one these days. Meet. Curve has a wide selection of beautiful and inclusive swimwear, including this crossover one-piece that pulls breasts and side rolls together for a smooth look.
What drew me in was the cross-front feature that converts into a square back. If you're looking for the greatest swimsuits for huge boobs, look no further. It supported my breasts during various pool activities and made me wish there were more colors available.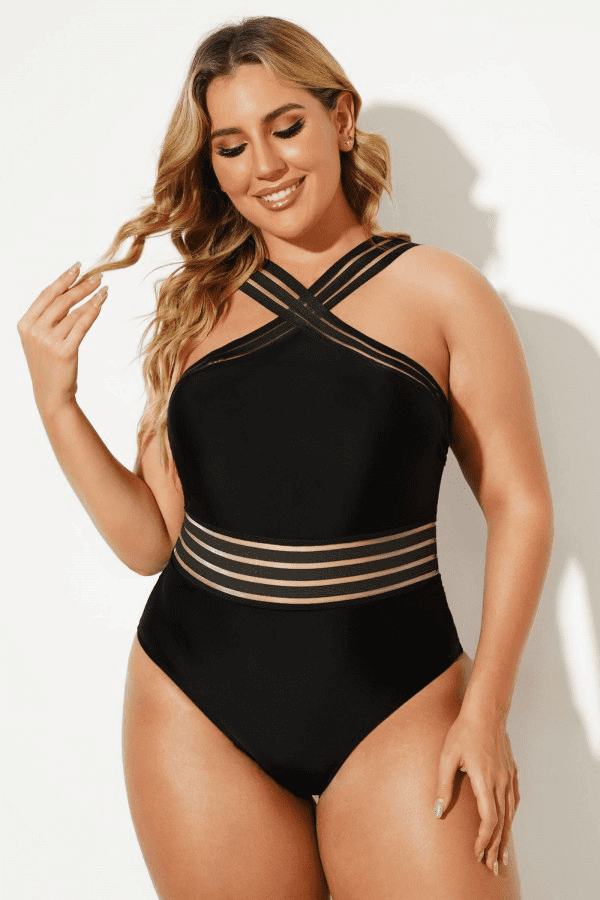 This plus size swimwear is equal parts elegant and sensual, with a hint of vintage vibes in the middle. The three strips of mesh paneling stretch all the way around the tummy, so apply sunscreen to these exposed areas to avoid a striped tan. The bottom half of this one-piece has a cheeky cut that can ride up at times, exposing more skin than you probably want.
7. Miraclesuit: Streamlined Classics For Tummy Control
Miraclesuit started designing stylish silhouettes for larger bodies long before most businesses offered them. While all of their plus size swimwear is made of high-quality compression fabric, our experts noted that many of their models have extra paneling in the front for tummy control. Not only does this one-piece plus size swimwear contain that panel to smooth out the stomach area, but the diagonal design is very attractive.
Sizes: 16W-24W | Price Range: $96-$216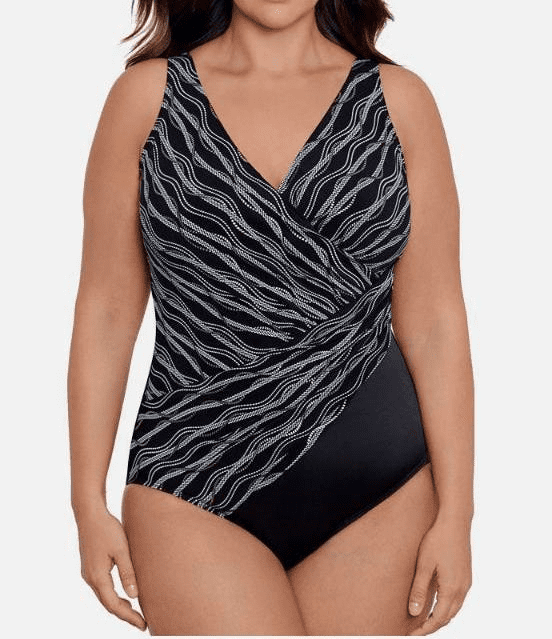 8. Cupshe: Affordable & Cool Two Pieces Plus Size Swimwear
CupShe is for fans of high-waisted bottoms and supporting top combinations that are flattering on plus size ladies. This choice features a top with wide, adjustable straps for support and a tie and hook closure for a personalized fit. The bottoms have to rush on the sides to flatter and go up over the belly button. The Spandex and nylon fabric feel luxurious even at such a low price.
Sizes: XS-3XL | Price Range: $13-$46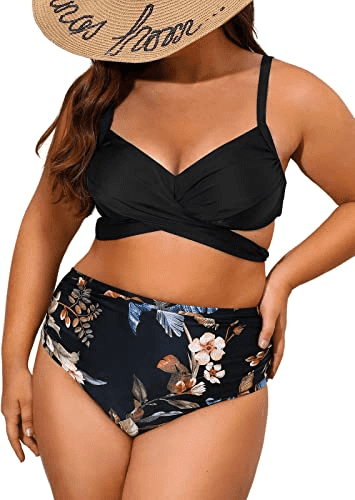 9. Best Strappy Swimsuits For All Shimmer Double Ring One Piece Plus Size
Another one-piece double-take, but this time makes it Barbiecore! Styles like this demonstrate that one-pieces can compete with the attractiveness of a bikini. And when you add vivid, shimmering hues, I'm eager to spend all of my money. Plus size swimwear for All has had the support of plus size people for several decades, with the brand focusing more aggressively on expanded sizes in 2014 after being acquired by a plus size corporation.
Not all of their styles are winners, but this one takes the cake with exposed cut-outs in the front and back tightened by a strong drawstring (double-knot it to keep it snug). High waist brief bottoms are a little cheeky in the back but remain put all day.
Size Range: 4-26 | Colors: Fluorescent pink | Fabric: Nylon and spandex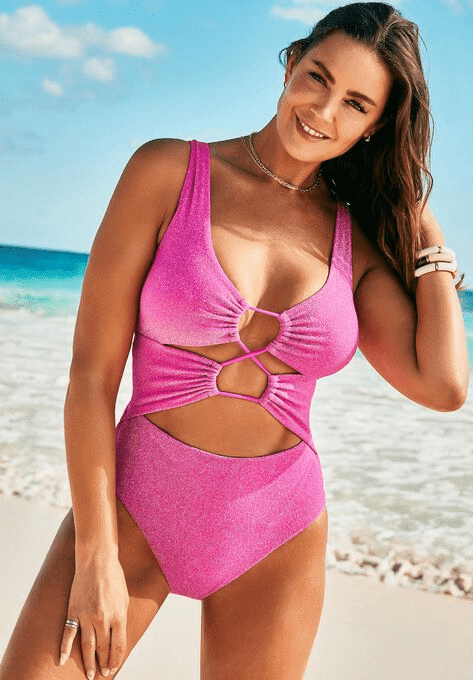 10. Best Rashguards Lands' End Chlorine Resistant Zip Front Long Sleeve Tugless Sporty One Piece Plus Size Swimsuit
Rashguards can be best for surfers and anyone who spends a lot of time in the water and sun. This one-piece plus size swimwear isn't exactly a rash guard, but it works just as well as one for full coverage that protects you from the sun and any water-related activity.
This Lands' End option eliminates the extra layer, allowing you to wear this long sleeve as a swimsuit without the need for a swimming suit below. The zip is very long and runs conveniently along the front side of the plus size swimwear, making it easy to put on.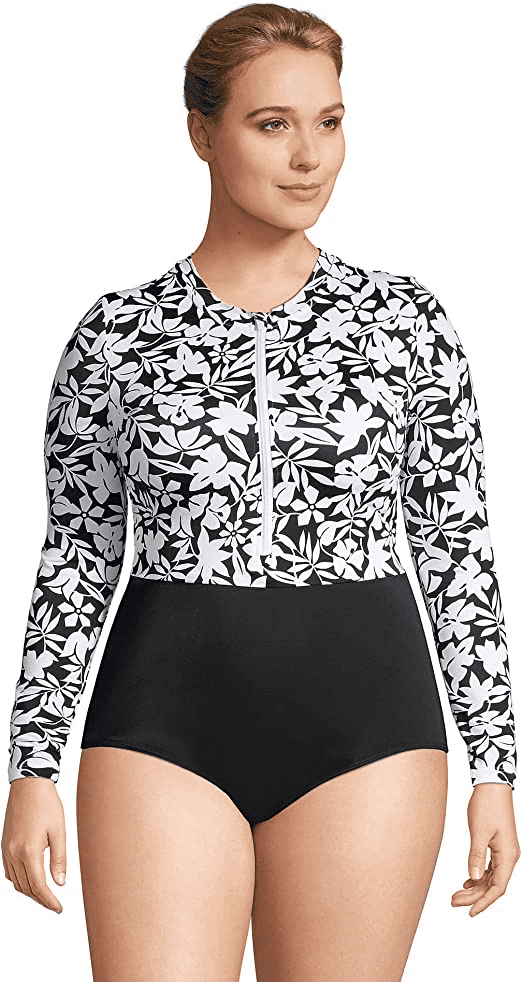 However, getting off is not easy. When moist or sticky with sweat, it might be tough to remove. I've sat in the home with this plus size swimwear on, waiting for it to dry because I couldn't bear the thought of trying to tear myself out of it. Fortunately, it's never ripped, thanks in part to the LYCRA spandex, which, according to Lands' End, "is supposed to last up to 10 times longer than other spandex," and I have to agree. Back in the day, I bought this outfit in black.
Price at time of publication: $86
Size: 16W-26W | Colors: Black and multicolor | Fabric: LYCRA spandex