Hello, My friends, are you still looking for one shoulder bikini manufacturer? If you have been in the business for many years, you must have come across a lot of bad one shoulder bikini manufacturers. Today we would like to recommend the top 10 suppliers for you to help you make a better choice.
BESTSHOW
ARENA
ZOKE
SPEEDO
YINGFA
Sanchi Ltd.
BALNEAIRE
LA PERLA
Embryonic Control
jinjiang trumpeter company
Maniform brand
Below we see the specifics of one shoulder bikini suppliers together.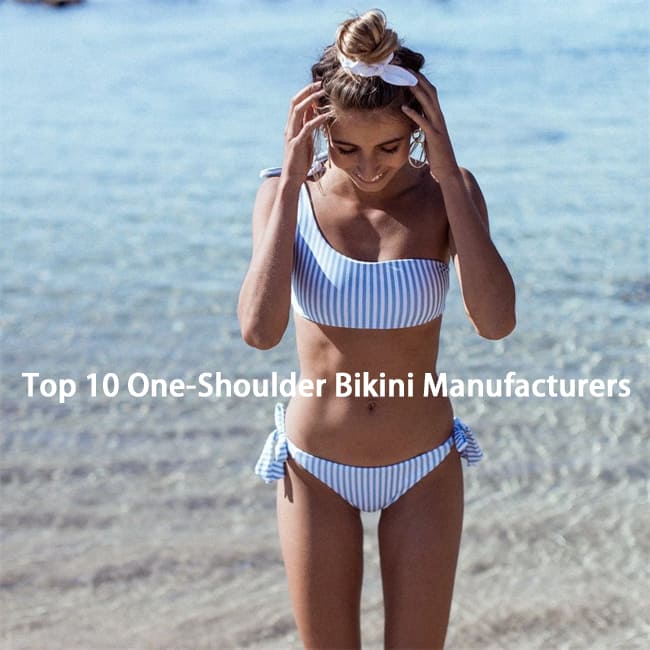 BESTSHOW
BESTSHOW was founded in the 1990s, it is one of the first factories in Guangdong to specialize in the production of swimwear. In 2000, the foreign trade department was established.
Since its establishment, BESTSHOW has been mainly dedicated to the design, development, and production of bikinis, swimwear, swim trunks, beach dresses, and other beach sportswear, developing into yoga wear and fitness wear.
BESTSHOW is not only satisfied with using high quality fabrics from high quality swimwear manufacturers, but it also has been authorized by DuPont to use their Lycra fabrics.
With more than 20 years of development and production capacity, BESTSHOW has earned the qualification of being the service provider of high quality swimwear brands in Europe and the USA. From Target and Macy's stores in the USA to the fashion industry in Europe, such as Old Fashion House and Milan, many of the brands shown in the window are called by different nice and wonderful names, many of them are BESTSHOW's customers.
ARENA
ARENA was born in France in 1973 and after many years of development, the ARENA swimwear collection is now popular with the world's swimmers.
Since the first swimmer wearing the Arena won 27 gold medals at the 1976 Montreal Olympics, more and more swimmers around the world have chosen to wear the Arena at various world swimming events, winning numerous medals and setting numerous world records.
With the rise of health consciousness, leisure fever, and the diversification of swimming content, ARENA has become more focused on the needs of sports enthusiasts and the general public. After years of development, ARENA has invested in new technology in terms of fabric and cut and has continued to develop new products, including women's swimwear (separates and one-piece swimming costumes), men's swimwear, children's swimwear, swim goggles and caps.
ZOKE
Founded in 1996, ZOKE is an influential fashion and fitness apparel brand in China, specializing in the development and marketing of swimwear and beach resort equipment, covering swimwear, caps, and goggles.
SPEEDO
SPEEDO originated in 1914 and only developed into a well-known brand name in 1928. The founder of the company was a young Scottish man, Alexander MacRae, who moved from Scotland to Australia in 1910 to open an underwear manufacturing plant called MacRae Hosiery. MacRae's business quickly expanded into the swimwear industry and the company's name was changed to MacRae Knitting Mills.
YINGFA
YINGFA is a brand of swimwear and goggles that has accompanied countless swimmers through their days of sweat and achievement, which is the company's mission and core value: to surpass oneself and create miracles.
In the 20 years since its establishment, the company has been growing and developing healthily and vigorously. It has two large scale swimwear, goggle, and silicone swimming cap production factories with superior technology and machinery and many technical talents. Each year, the R&D team continues to innovate with the concept of excellence in swimwear design, keeping up with the trend of the swimming world, whether it is competition swimwear or beach swimwear.
Sanchi Co.Ltd
Sanchi Co.Ltd is a recognized and influential fashion water sports brand in China, with agents and distributors in 23 large and medium-sized cities. Established in September 2004, Sanchi started out as a manufacturer of professional swimwear, fitness wear, yoga wear, sports underwear, and other sportswear lines.
Today, Sanchi has more than 700 sets of professional swimwear production equipment in the world, 1,000 professional swimwear design and production staff, and an annual production of 3 million pieces of swimwear.
BALNEAIRE
BALNEAIRE is a fashion swimwear brand, focusing on fashion swimwear for 37 years. A fashionable high-end swimwear brand is worn by over 100 celebrities in China. Perfectly created by a first-class design team and top craftsmen, it leads the new trend of global fashion swimwear and conveys a light and luxurious lifestyle. Shaping the image of an elegant and independent contemporary woman, Vandoorne has always encouraged a confident, independent, and courageous attitude toward life for modern women. Multiple collections and hundreds of products are launched every year. Selling well in fashion capitals such as Paris, Milan, and London, the collection is sold overseas as a high-end fashion swimwear leader.
Vandoorne is known as a fashionable swimwear brand with a 37-year-long brand culture, more than 200 shops worldwide, and the annual sales champion on the Internet in China. The brand has always adhered to the brand culture of "noble, sexy, and simple".
LA PERLA
Founded in 1954, the LA PERLA Group is one of the world's top manufacturers of lingerie, women's wear, and swimwear, and a founding father of fashion. The LA PERLA brand of lingerie has a deep cultural connotation and a beautiful artistic atmosphere, successfully making lingerie truly feminine and bringing lingerie trends into the world of young people in time. For its noble style and long history, it is known in the industry as the "Rolls Royce" of lingerie products.
Embry Control
Embry Holdings is a major lingerie brand and retailer in China. Founded in 1975 in Hong Kong, China, Embry Holdings has grown into a large modern enterprise over the past 40 years.
To date, Embry has a retail presence in over 300 cities in China, including Hong Kong and Macau, with over 1,800 retail outlets. Embry Form is not only a retailer of women's lingerie but has also successfully established the high quality and diversified brands "EMBRY FORM", "FANDECIE", "COMFIT", "LIZA CHENG", "E-BRA", "EMBRY FORM" and "FANDECIE". "E-BRA", "IVU", "I ADORE", and "LUCIE'S WORLD "The Group's lingerie brands include
At present, the Group's product range includes bras, panties, sleepwear, swimwear, cotton jumpers, corsets, sports underwear, socks, and maternity and nursing underwear, which are popular among people from all walks of life.
Jinjiang Hornbearer Company
Jinjiang Trumpeter Company is a comprehensive enterprise integrating development, design, production, and sales, specializing in swimwear, yoga, fitness, beach trunks, swimming goggles, and swimming caps.
The company not only focuses on the development of the Chinese market but also sets its eyes on the international market. At present, we have established good partnerships with traders of international brands such as CARROCH, FELLOW, U.S.POLO ASSN, REEF, BEACHSE, BODY, etc. in the United States, Australia, Europe, and South America.
Maniform brand
The Maniform brand was born in 1996. The brand insists on the brand proposition of "You are born sexy", drawing inspiration from the world of fashion culture and the art of living, combining the results of more than 20 years of dedicated research on ergonomics and technology, providing hundreds of millions of women with innovative, fashionable and professional high-quality lingerie that is comfortable, functional and aesthetically sexy solutions for their personal belongings, helping each and every We help every woman to create a unique sex appeal both inside and outside.
The Maniform brand never stops exploring and innovating, constantly developing high quality lingerie products. After years of accumulation and precipitation, Maniform's products have covered lingerie, home, sports, cotton, men's, children's, and beauty categories and established six sub-brands to continue to practice a high-quality lifestyle with a balance of comfort, function, and aesthetics in a wider range of categories.